Book on 'Indian Saris' launched in London
A book on the journey of the traditional sari which has enamored Indian women down the ages and is now becoming popular in the foreign shores was recently launched in Britain.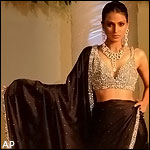 The book 'Design for India: Indian Saris' celebrates the meaningful engagement of contemporary Indian design in saris with the traditional handloom industry of India.Author Vijai Singh Katiyar, Senior Faculty, National Institute of Designs, Ahmedabad researched for two decades on the visually delightful book which rediscovers the handwoven sari, an iconic traditional product of India for its conceptual strengths that are relevant to the contemporary scenario.
Katiyar said that sari exports account for 7 to 8 per cent annual growth, adding, the garment has registered a growth mostly in the UK and USA where there is a sizable NRI population.
Baroness Shreela Flather formally inaugurated the book at the Nehru Centre yesterday describing it as a "real feast". The book launch coincides with the 'London Book Fair' where India is the theme country this year.
The book is co-published by NID and the Wisdom Tree, New Delhi.